Get Started With Asheville's Favorite Kids Martial Arts Classes!
At American Top Team Asheville, we're extremely proud to offer children from Asheville and beyond the opportunity to build athleticism, grow their confidence, and learn how to set and accomplish goals through hard work and dedication. Our kids program is focused, first and foremost, on having fun in a safe and supportive environment—but students will also grow emotionally and mentally through our programs and mentorship. Discover how our kids martial arts program can help your child thrive!
Just fill out the short form below for more info!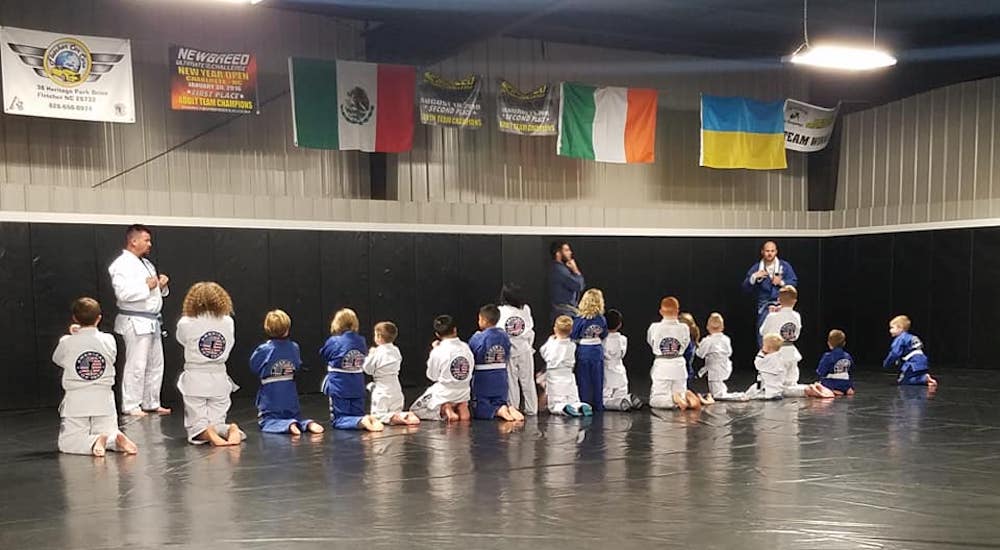 What Do Our Kids MMA Classes Offer?
Although many parents think that kids martial arts might just be about punching and kicking, the opposite is true. Safety and non-violence are prime concerns, and our program is focused on instilling important core values like discipline, respect, and self-confidence.
We offer multiple classes for different age groups:
Little Warriors - Ages 4-7
Champions in Training (Kids BJJ) - Ages 7-14
Juniors Boxing - Ages 4-14
Kids Wrestling - Ages 7+
Begin to integrate into Adult programs at 15+
Our certified instructors will provide your child with a positive role model and provide individualized coaching as they work toward new belts, learn crucial life lessons, and develop a sense of pride in what they've accomplished. Through a mixture of wrestling, boxing, jiu jitsu, and more, we help kids from around the Asheville area become confident and strong!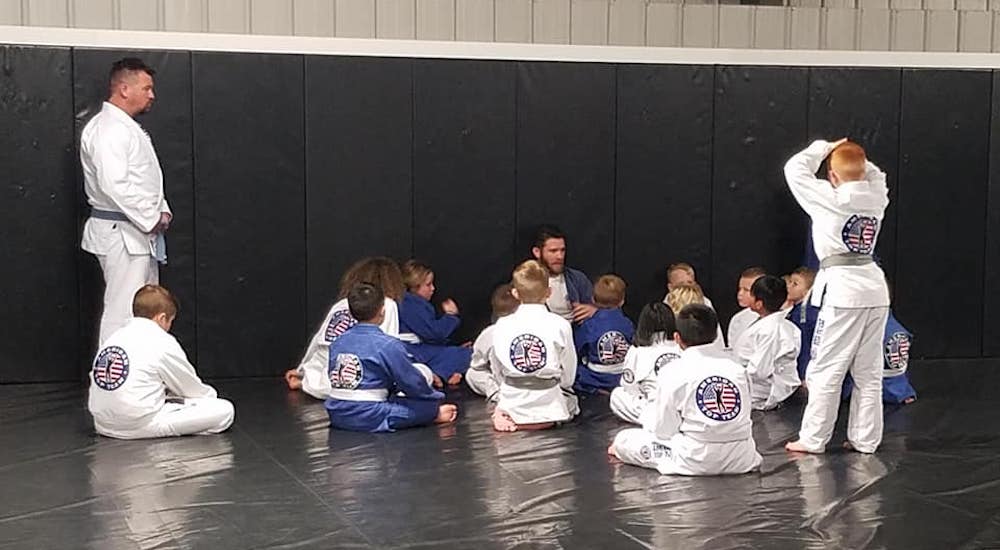 Try out our Kids MMA program and see:
Building lasting self-confidence
Understanding the value of hard work
Acquiring discipline and self-respect
Learning to set and achieve important goals
Our Kids Martial Arts program is also a great way to prevent bullying, since your child will gain in confidence and learn actionable self-defense skills. They'll learn to communicate, be part of a team, and become leaders. American Top Team Asheville has so much to offer kids from around the Asheville, Hendersonville, and Arden areas... all you have to do is get started!
Click one of the programs below to learn more about a specific class:
Our Kids Brazilian Jiu Jitsu classes offer your child the opportunity to meet new friends, connect with mentors who will guide them to excellence, and learn transferable skills that will help them in all aspects of life. What we teach at American Top Team Asheville isn't ONLY about self-defense -- it's about instilling strong values and promoting positive personal growth!
As your child makes the journey from white belt to black belt, they learn about goal-setting and discipline. As they practice new Jiu Jitsu techniques with their friends, they gain teamwork and leadership skills. Each class helps them gain focus and listening skills. And as a bonus, they'll also learn anti-bullying strategies and the fundamentals of self-defense!
Join us in Arden for Kids Brazilian Jiu Jitsu classes and see your child:
Gain unwavering self-confidence & improved self-esteem
Acquire a greater sense of focus and concentraion
Practice important teamwork & leadership skills in a safe environment
Bond with positive mentors who will challenge & encourage them
Kids BJJ Class times:
Little Warriors: Monday - Thursday: 4:15pm
Champions in Training: Monday - Thursday: 5:00pm
Our boxing program will help your child:
Relieve stress
Bolster their daily energy
Increase their focus, concentration, and clarity
Set goals and achieve them
Our boxing classes offer participants all these benefits and more. Our mission is to help kids from around Asheville enjoy heightened energy, better fitness, and unshakable confidence... so join us at American Top Team Asheville and see for yourself how we're transforming lives through boxing!
Juniors Boxing Class Times:
Monday - Thursday: 4:15pm
Through our professional training system, ATT Asheville is offering world-class wrestling coaching right here in Arden. See technical growth, gradual improvement in strength and fitness, and real results in your child's ability to succeed -- both on and off the mats.
Through wrestling, athletes will:
Get started on long-term athletic development
Alleviate burnout through intensive, dynamic coaching
Invest in development during the off-season
Forge ties with other dedicated athletes
Kids Wrestling Class Times:
Wednesdays: 5:00pm
Saturdays: 10:00am
Join Us at American Top Team Asheville To Begin Your Child's Journey Today!
We genuinely believe that our kids martial arts program will leave a positive imprint on your child's life. Although many of our instructors have competed professionally, we understand that our mission with your child is to foster a set of core values. Your child's journey begins right here in Arden, so why wait? Check out our Kids MMA classes before spots fill up!
Or you can just fill out the short form below to learn more!